O tomto videu
Journalist Saša Uhlová and documentary filmmaker Apolena Rychlikova, have decided to examine the working conditions of people in low-income jobs by addressing wage inequality in working poverty. The aim of their observation was to draw attention to this large group of employees because, although their work is irreplaceable, it is underestimated and not adequately evaluated.
About speaker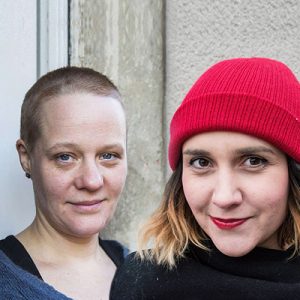 Apolena Rychlíková (1989) is a Czech documentary filmmaker and editor of the daily commentary A2larm.cz. She has been dealing with social and political issues in her films and texts for a long time. She studies at Prague FAMU, cooperates with Czech Television or Czech Radio. Her films are regularly screened at both Czech and foreign festivals. The last film Borders of Work, created for the Czech Cycle Journal, won the Czech Joy Award for Best Czech Documentary Film and the Audience Award at the Jihlava IDFF, and won the Czech Film Critics Prize in the Out of Cinema category and the Czech Lion nomination. For her posts for the Salon Rights, she was nominated for the Best Commentary of the Year award in 2017 at the Journalist Award organized by the OSF Foundation.
Saša Uhlová (1977) is a Czech journalist dealing with social problems. She studied Roma at the Charles University and devoted herself to field research in Roma communities. She worked in the Romea organization and then as a journalist at the daily journal Referendum. Since 2017, she has been editor of A2larm.cz, for which she has created a series Heroes of capitalist work. In this unique project, she spent more than half a year in secrecy to study low-income jobs in the Czech Republic. For the series, she earned her publicity nomination at the Journalism Prize 2017, as well as the nomination of the jury for the Top Reporter in 2017.